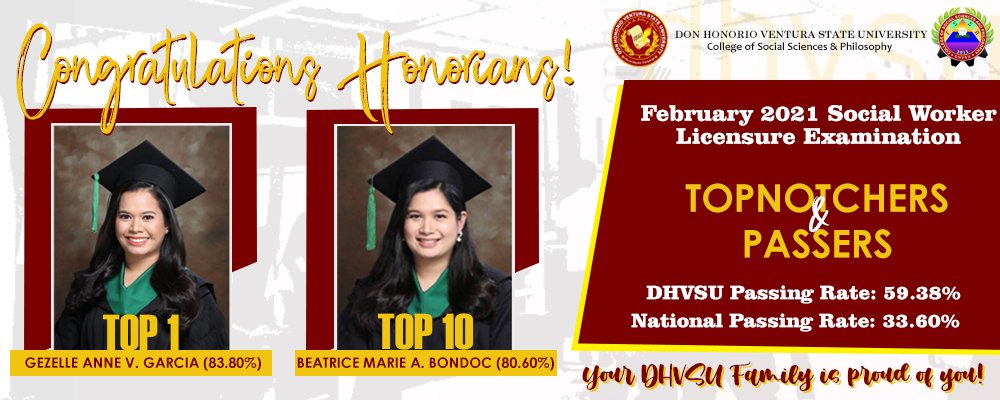 REPORT ON THE PERFORMANCE OF THE DHVSU BACHELOR OF SCIENCE IN SOCIAL WORK PROGRAM
The program was first offered SY 2010-2011, with the pioneer batch graduating in 2015.
The same year, alumna Winnalyn Gonzaga ranked Top 2 in the July 2015 Licensure Examination for Social Workers. In 2017, alumnus Reiner Gorospe landed the Top 10 spot. No examination was held in in 2016.
Result of February 2021 Licensure Examination for Social Workers
National Passing Rate: 33.60%
DHVSU First Time Takers: 74.42%
DHVSU Overall Performance Rating: 59.38%
DHVSU Topnotchers
Top 1 - GEZELLE ANNE VIRAY GARCIA
Top 10 - BEATRICE MARIE ALINAS BONDOC
LIST OF PASSERS
Albarda Emil Rey P.

Alzona, Cynthia G.

Angel, Carla Joy

Azores, Elvie S.

Bagang, Jesus Enrico G.

Baldonado, Zarbeth S.

Balingit, Kenneth Chase M.

Bautista, Abigail L.

Bondoc, Beatrice Marie A.

Bondoc, Jonathan L.

Cayanan, Kelly Rose M.

Correa, John Paul E.

David, Angelica Mae S.

David, Charina S.

De Vera, Camille D.

Evangelista, Igor Cliff B.

Garcia, Christian Edison B.

Garcia, Gezelle Anne V.

Garcia, Marjorie Y.

Hesite, Sheenie E.

Judalena, Fatima Q.

Lozano, Edgardo Jr. G.

Macaspac, Janeth T.

Mallari, Leslie Marie M.

Mallorca, Sulficio Jr. D.

Manarang, Raquel M

Molina, Jemimah Shemzel M.

Montano, Vaneza Ann G.

Mosquera, Hermie P.

Mosquera, Joenel Jr. V.

Nuyda, Carl Renzo S.

Punzalan, Cristal M.

Reyes, Ana Leah Katrina S.

Santiago, Jheliane M.

Sarita, Janine Keith T.

Simon, Renee Faye A.

Toledo, Sharmagne C.

Torres, Izette Nina Liz C.

Valderama, Janella D.

Yabut, Micaella D.
Reported by:
Mary Grace T. Sandico, MMPM, MSSW-Chair, BSSW Dept.
Nelly N. Pilao, PhD – Dean, CSSP
Elena C. Tesoro, MBM, MSSW, PhD- Chair, MSSW Program
Informative links:
PRC Official Announcement with list of Top 10